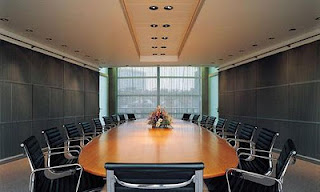 The always excellent Joann Lublin poses some interesting questions in this Wall Street Journal article. Why so few female Directors on public company boards?
From my time in the corporate world, including ten years in retained executive search, I have some thoughts — and suggestions, which I posted on the comment section and now share with you:
1.  Board selection committees and search firms could expand the "spec" to include leaders in professional firms who have served public companies with a similar revenue level, stage of growth, business situation as the company for whom the Board search is being conducted. There is a significant and often untapped pool of talent in the top/partner ranks of advisory firms (legal, accounting, finance, consulting, ad/marketing, human resources, process improvement, etc.) with functional and industry expertise, heavily populated by female/diversity leaders who would be very well qualified to serve as Board members. This would be a win/win for all — expanding the scope of prospective candidates without independence/conflict-of-interest issues and increasing the potential for diversity inclusion.
2. When men receive outreach from executive recruiters seeking candidate suggestions for assignments, they tend to respond quickly with names, contact information, etc. They know the drill , i.e., how to be an active part of the selection/referral process. Many women are reticent responders; some are non-responders and I have actually had women ask to be removed from such email/call lists. This is all part of the "inclusion" process — part of what used to be called the "old boys" network. So…very important to know how the process works and to participate! If a headhunter calls, respond immediately. It might be your opportunity to serve on a Board or to nominate a candidate.
3. If the executive search firms were organized as the lawyers (ABA) accountants (AICPA) are, it would have been written into Sarbanes-Oxley that every Board search for a public company would have to be handled by an independent, outside search firm, just as independent auditors are mandated. This would eliminate any informal aspect of Board selection and there would be a paper trail of the process.
Until then, be an advocate and active participant whenever you can.  Diversity brings vigor and a valuable perspective to any dialog.  For governance, it's an asset that can be a competitive advantage.
Bonus anecdote:  When I was chosen as outside public relations counsel to Tandy/Radio Shack in the 1980s, there was a Saturday morning pow-wow in the executive suite.  At the break, I looked for the ladies room.  It was on another floor!  Apparently, it was a money-saving move during construction of the corporate headquarters.  At the time, legendary chairman Charles Tandy said there would never be any women in the boardroom, so why bother?  Happily, that isn't the case today.
December 27, 2011 by Nancy Keene