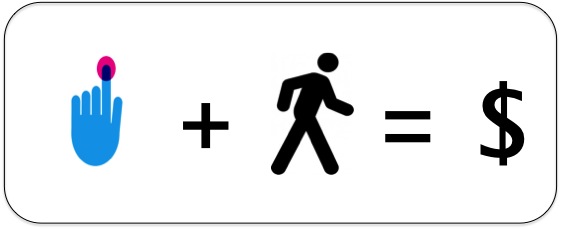 Start with a number:  717 million smart phone shipments in 2012.*
Then, imagine the impact and opportunity if you are a restaurant or retail chain.  Your customer has a technology device close at hand on nearly a 24/7 basis.  Thus, a new delivery path for customer acquisition, market intelligence and revenue growth — all under the umbrella of omni-channel, a seamless approach to the consumer experience through all available shopping channels, from on-line to brick-and-mortar.
What is the best road map for your enterprise?  Trailblazer Capital offered up a tasty menu of possible solutions at its second annual TechTrends in Restaurant & Retail event — expanding the synergies that abound in Dallas as a center of excellence with a strong heritage and talent base in these three industry sectors.
Entrepreneurs presented an ROI-boosting extravaganza of technology-based innovations — designed to draw customers from their device screens to your door.  Not to mention productivity tools and facilities management applications to reduce operating expenses and level the playing field for legacy brick-and-mortar players competing against virtual new entrants.
Restaurants and retailers need more customers, but the market is inefficient.   Technology can be an answer, notes David Matthews, managing partner of Trailblazer, also anchor investor in the VentureSpur incubator.
Some food for thought:
The technology must not come between your team member and the customer.  Theatro Labs introducing voice-controlled, networked wearables accommodating inventory look-up and other customer questions while maintaining eye contact and one-on-one communication.
Geofencing — What are your customers doing inside or outside of your store? Koupon Media delivers targeted customers via a full array of on-line coupons, games, loyalty benefits and other offers within the client's own app.
Dwell time — Goal is to increase frequency + duration of visits + basket size.  Proximity beacons can deliver benefits via permission-based mobile marketing.
$170 billion restaurant orders are moving on-line; 40% of pizzas now ordered on-line.  Patronpath enables restaurants to control the customer info/infrastructure with integrated on-line ordering system that includes coupons + promotions.  An alternative to menu aggregators.
The best customers spend 5x more, but restaurants don't necessarily know who their best customers are.  Austin-based Mahana provides a complete ROI and paper trail — so you can provide unique benefits and experiences to your biggest spenders.  Notable point:  The customer selecting the restaurant may not be the one who pays the ticket.
Data is prolific, but actionable usability is still elusive.  Oculus 360 converts consumer perception to retail activation with a market intelligence platform that distills social listening to interpret what the chatter is really saying — enabling decisions based on what we know vs. what we think.
Green is good and cycleWood Solutions delivers a sustainable solution to plastic shopping bags with a lowest cost product made of lignin, a natural polymer that turns into compost quickly.
$1.2 trillion of retail sales follow a mobile path to offline purchase. Donde shows shoppers with high purchase intent where to find goods and services with a bonus of analytics regarding customer profiles and store traffic.
There is $20 billion in wasted energy usage at 2 million restaurant and retail sites.  EnTouch Controls provides a solution to cut costs, avoid crises and extend equipment life.  Save $$$ on energy and apply it to on-line customer acquisition!
NYC-based Service Channel is an Angie's List on steroids for commercial work management — connecting local stores with tradesmen and contractors who can provide an instant fix, no pun intended, plus payment and quick-access analytics on aging stores, operations issues, etc.
Groupraise automates field marketing and community outreach, targeting non-profit groups within a 3 mile radius of a restaurant location who create fundraising events and deliver full-paying customers — many first-time visitors — in return for a portion of the proceeds.  It's a beautiful win/win that delivers customers and documents community involvement.
The recipe for success is changing, upended by so many different approaches to access, serve and delight the customer.  It's all about driving eyeballs to your website and social media channels, then converting to click-throughs and foot traffic.  What will draw and delight your customers?
One principle of success remains the same, according to master-innovator and legendary restaurant impressario Phil Romano: "Find out what people want and need.  Then give it to them."
In a keynote interview conducted by Trailblazer's Joel Fontenot, Romano told the audience that "the hospitality industry needs new restaurant concepts, new brands and new people to excite and engage young millennials, in particular.
In Trinity Groves, his new incubator/entertainment destination, Romano's team is growing all of the above with a roster of test concepts that will grow to 20 by year-end.  He's created a start-up formula and auditions fresh talent with creativity and new ideas. "Most of our operators have never been in business,"  he said.  "They haven't failed, therefore they have no fear."
"We're doing what the government can't do:  creating jobs for young people and families. The entrepreneur is the most important in the economy.  Everyone feeds off of them.  Who is teaching young people to be entrepreneurs these days?" asks Romano.
In Texas, the entrepreneurial success platform is alive and well-done!
* according to IDC
April 17, 2014 by Nancy Keene