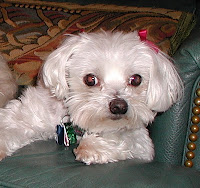 If you have a creative bent,you likely have a storehouse of content — ditties you've written or drawn.  If you are in the professional services sector, it might be a backlog of thought leadership.
It's the New Year.   A perfect time to try something new!  Dig into the archives.  Take a fresh look at your output.  Maybe you can package, leverage — or simply share — something that might be of interest and value to others.
Here's a wonderful holiday song inspired by our little family dog.
Children love it.  It's easy to sing — with a nice story about untapped skills that lie within.  There are product extension possibilities.  I'm storyboarding a picture book.  And, of course, it would be an adorable plush toy — or even screenplay.
Don't hesitate to shoot me an email regarding commercial possibilities.  It's my creative side project of the year.
I've changed the name of the little dog.   Sending it off for copyright approval via LegalZoom.com.  Enjoy!
Noelle's Merry Christmas
There once was a dog….
And her name was Noelle.
She went with her family
Where some trees they would sell.
They all got so excited
About the Christmas tree.
They got into the car.
"AND THEY FORGOT ABOUT ME!!!!"
Poor little dog!
Left all alone!
So far away from home…..'
Just to wander and to roam.
She walked along the highway…..
She went from street to street.
When daylight turned to darkness,
THE LITTLE DOG BEGAN TO WEEP. (Oh noooo….)
Then what to her teary
Little eyes should appear
But Santa and his little team
Of merry reindeer.
They said, "Come on and join us!!
"We'll travel through the sky.
"You'll see your Mom and Dad again…"
"BUT I DON'T KNOW HOW TO FLY!!!!"
She practiced and practiced….
Tried to flap her little paws.
With Santa and his reindeer
Looking on with applause.
She said, "I'll never do it!"
Her ears turned 'round and 'round.
The next that she knew it….
SHE WAS LIFTED FROM THE GROUND!!!!
(Touch your fingertips together and raise them above your head!)
With Dancer and Prancer
And the rest of them she flew….
Up in the air
In the winter sky so blue.
They landed on the driveway.
She scampered to the door.
Noelle's back with her family….
MERRY CHRISTMAS, EVERMORE!!!!
© Nancy Keene 2011
January 5, 2011 by Nancy Keene