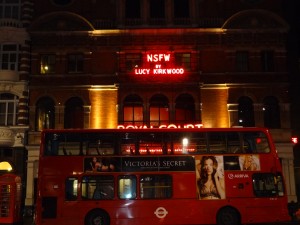 Photo Copyright 2012, Nancy Keene
British playwright Lucy Kirkwood staged a brilliant storyline at London's Royal Court, the prestigious venue for new theatrical productions.  NSFW (Not Safe for Work, alluding to inappropriate internent content) parses the image of women in contemporary media.  First, from the point of view of a bawdy men's magazine, Doghouse.   Then, a perspective from women's fashion/lifestyle magazine, Electra.  Sadly, the images are both the same.  Must be perfect, thin, beautiful, bosomy.
As the play opens, the Doghouse editorial team is astir, navigating the decline of traditional print magazines and the need for revitalisation via social media.  But then the unclothed winner of their 2012 "Local Lovely" competition turns out to be a 14 year old girl, Carrie Bradshaw — whose consent forms were forged by her boyfriend.  Uh oh.
The outraged father (Kevin Doyle, who plays Joseph in Downton Abbey) shows up for revenge, but the glib and wily editor Aidan turns the tables, Racehorse Haynes-style, shaming him for discovering the uncovering as a Doghouse ogler himself. Aiden  villainously corners Mr. Bradshaw into accepting a £ 25,000 pay-off.
Editorial staffer Sam, a romantic planning a poignant proposal to his one true love, is distraught and teetering toward career derailment, as he was in charge of the contest — reviewing nearly a thousand submissions by young women or their boyfriends, seeking affirmation of desirability and the prize of media spotlight.
They didn't have to surruptitiously connive victims to the camera lens.  As Aidan tells the father, "We don't have to.  Why?  Because they queue up.  They come to us."
Call it the Kardashian effect.  The young girl Carrie is given every range of educational and cultural advantage by her sacrificing parents.  But a designer dog and cosmetic surgery top her Christmas wish list and, according to the father, "her friends are bright young women who don't give a toss about anything but shopping."
Then it's a quick switch to the sleek offices of upmarket woman's magazine Electra where editrix Miranda is intent on erasing every female imperfection before the next issue goes to print.
The character is an uber-thin, golden maned, fast-talking fashionista.  Smart, sarcastic lines, seductively delivered.  Delivering guidance to anxiety-filled readers who write to say "Thank you. Thank you, Electra.  I thought I was alone and then I read an article in your magazine and I realised that I wasn't."
Former Doghouse staffer Sam — unemployed for months after the Carrie Bradshaw fiasco — is applying for a position and Miranda puts him through the paces.  He is to examine a photo of a gorgeous celebrity, then put red circles around her body flaws via Photoshop, and then caption them.
He is confused. "But she's perfect….I mean she's an actress.  She's a film star.  It's her job to be perfect.
Miranda counters.  "She's not perfect.  Nobody is perfect….I need you to point out the ways in which this woman is not perfect."
As the Doghouse editor bullied the upset father, Miranda pummels Sam to think of flaws in his former girlfriend that made him flinch.  He truly adored everything about his beloved who abandoned him in the wake of the Doghouse scandal.  To survive and regain a paycheck, he has to conjure imperfections and complete the Photoshop audition.
Kirkwood's satire about power and privacy in the era of internet exhibitionism is both comical and disturbing — a worthy addition to the conversation of gender portrayal in media.  There is a ripple effect from media to the workplace, according to powerful research funded by actress Geena Davis.  The topic is a strategic initiative of the Dallas Women's Foundation which is sponsoring a Gender in Media Forum on February 8, 2013.
"I don't think the play offers any solutions," Kirkwood says. "It tries to suggest love as a thing to cling to when everything else is being eroded. But of course I don't have any answers; none of us does. "In different ways, both men and women betray women."
Note of irony: As I was shooting a photo of the theatre marquee,  a red double-decker London bus pulled up — emblazoned with a massive Victoria's Secret lingerie layout.  (see photo, above)
Sign of the times.  Art imitates life.  Life imitates art.
copyright 2012  Nancy Keene All Rights Reserved
December 11, 2012 by Nancy Keene