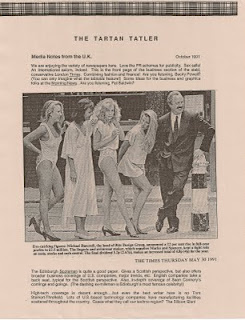 In the early 1990s, I was a new bride gearing up to cross the pond for the experience of a lifetime: moving to Aberdeen, Scotland with my new husband, who was on an expatriate assignment for an American oil company.
There was one complication.  I had a consulting business in Dallas, but no work permit in the U.K.  And I didn't want to disappear from the domestic business scene, since we would be repatriating in about 18 months.
Thus, I found a way to continue servicing a major client on a long distance basis.  A technology lifeline was installed in my U.K. home office.  Are you ready for this?  A dedicated FAX line!  I then opened an AT&T International calling account — at a pre-Internet, pre-Skype rate of $1 per minute.
I also had a weekly segment on KRLD, the all-news Dallas radio station, as business strategist for The Bottom Line, an evening news program.  I pitched the concept of a Report from the EU regular segment.
The station had a new GM, Charlie Seraphin, and he nixed it.  Instead, he proposed, why don't you do something more personal?  Since you will be having a sort of sabbatical, here's the premise:  What if you wake up one morning and there's NOTHING you absolutely have to do?  
His concept was to share the experience of a new, uncharted life in unfamiliar surroundings.  What a fantasy for frazzled business types who were beginning to feel the pain of downsizing and doubling of the workload!  Today it would be called a blog!
I was horrified.  I just couldn't put myself out there with tales of everyday life — looking for addresses on streets that changed names every few blocks…trying to decipher the dials on an outmoded oven.  It was in the era when people tried to keep their personal and professional lives separate.
But I did create a little newsletter, covering media trends and other business topics.  The masthead was a strip of tartan ribbon. U.K. newsclips were manually cut and pasted – i.e., bathing beauties illustrating a business story in The Times. Shocking, we thought.
Production was on a Canon personal copier, one sheet at a time.  The graphics were primitive, but the copy was lively.  Distribution was via snail mail to friends and clients back home.  Imagine!
Today, mobile technology, social media and a global market enable transparency and a myriad of career opportunities for the trailing spouse in virtually any type of relocation.
Ronda Carman, a Texan living in Scotland, is my favorite role model for this new era of international career innovation.  She likewise followed her husband who is is an esteemed professor there.
From her perch in Glasgow, she has built a glittering, global following for her excellent design blog All the Best — A Passport to Stylish Living.  She serves as brand ambassador for an impressive clientele.  She is a top relationship-builder — with longstanding design leaders such as Charlotte Moss and Jan Showers, as well as up-and-coming NextGen tastemakers, of which Ronda is now one herself.
Here's a recent profile in New York Social Diary, definitely a coup to be on the radar screen of the prolific David Patrick Columbia.  She's one to watch!
It's a fun media juxtaposition.  The U.K. sent us Anna Wintour and Tina Brown and we've reciprocated by dispatching Ronda to Scotland.
What a long way from the primitive era of The Tartan Tatler and "patch me through to Dallas" calls to the Aberdeen office of a U.S. tech client.
April 19, 2011 by Nancy Keene