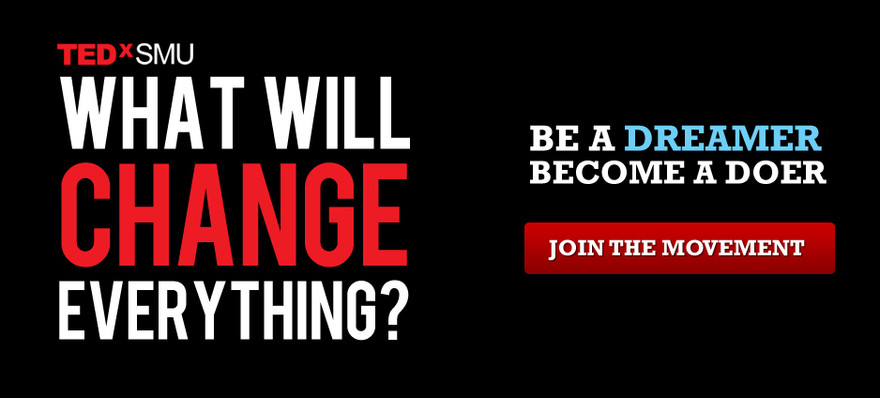 What ignites a civilization?
A magic combination of ideas and implementation.  People with the belief that boundaries can be removed and extended. Hope and fervor for something better. Ways to look beyond the borders and limitations of our day-to-day existence. Innovations and practicalities that determine whether people will be surviving, thriving — or dying.
It's the basic premise of TED, the global showcase for ideas that make a difference — with a focus on  Technology, Entertainment, Design and other disciplines.
This intellectual extravaganza came to town last weekend in the form of TEDxSMU, sponsored by the Bobby B. Lyle School of Engineering at SMU with underwriting and support from an array of other believers in progress and improvement for the human condition.  Right here in Dallas!
It was a one-day intense and power-packed schedule of inspiring presentations and performances by the people making things happen — meted out in 18 minute multi-media talks and 3 minute riffs. Definitely a  boatload of content — staggering in breadth, hop-scotching from topic to topic and quite headspinning to take it all in.
We sat transfixed at the fast-moving panorama that included:
And this is just a teaspoon of what we devoured!
The theme was brilliant — how smart and savvy engineering can change the world.  The timing was perfect — against the backdrop of the AT&T; Performing Arts Center grand opening activities.  The speakers, topics and visuals were captivating.
But click back into the real world and there a piece of our regional technology infrastructure that needs attention.
Monday headlines in The Wall Street Journal gave a jolt — reporting the wind-down of venture capital firms co-located in the 16th Floor at Two Galleria Tower, long the corridor of start-up investment starpower.  The regional VCs — with roots funding spinouts from TI, Rockwell, et. al. in the 1980s – are being hard hit by the downturn and lack of IPO market.  "Dallas is an entrepreneurial city, but it won't be driven by venture capital going forward," said Dan Owen of HO2 fund.   He acceded that the pure venture capital model is really thriving in just Silicon Valley and Boston.
Tuesday brought another stun:  "Next to nothing ventured" in the Dallas Morning News on the amount of money raised by Texas-based venture capital funds in the third quarter.  The amount was truly zero, compared to $1.6 billion raised by a total of 17 U.S. funds in the same period.  The first quarter was also a no-show for Texas, compared to $4.81 billion raised by funds elsewhere in the U.S.
A concern, as venture capital is the rocket fuel for new job creation and future propulsion.  It's an important ingredient for economic develoment and general robustness, something we all want.
Flash back to TEDxSMU.  There was a U.S. Presidential podium onstage as the program opened.  Would we be greeted by Obama or George W?  Wrong.  It was a TED moment of wow.  The conference leaders had tracked down and commandeered the actual podium where John F.Kennedy declared that we would enter the space race and land a man on the moon!
That far-reaching vision of JFK triggered the imagination of thousands of inventors and masses of ambitious aspirants to move beyond their current reality and reach into a new beyond.  People moved away from hometowns and nuclear families, migrating to new opportunity pockets.  Second-generation Americans achieved the dreams of their immigrant grandparents by pursuing college educations.  The creative output resulted in products that have changed the way we live, work, travel and communicate.  Politics aside, Kennedy tapped the enterprising spirit of an entire generation.
Thus, the timing of TEDxSMU is prescient.
We need to keep encouraging innovation jump starts.  Maybe a new way to support start-up companies to replace the diminishing pool of local venture capital money.   Combine that with a string of new corporate relocations to follow AT&T's excellent decision to locate here.  Not to mention the Super Bowl and other strategic initiatives.
Bravo to Dean Geoffrey Orsak and Sharon Lyle, TEDxSMU program director,for the vision and execution.  What a great building block and element of momentum to ensure we are on the path for growth in both the near and distant future.  Encore!
October 14, 2009 by Nancy Keene