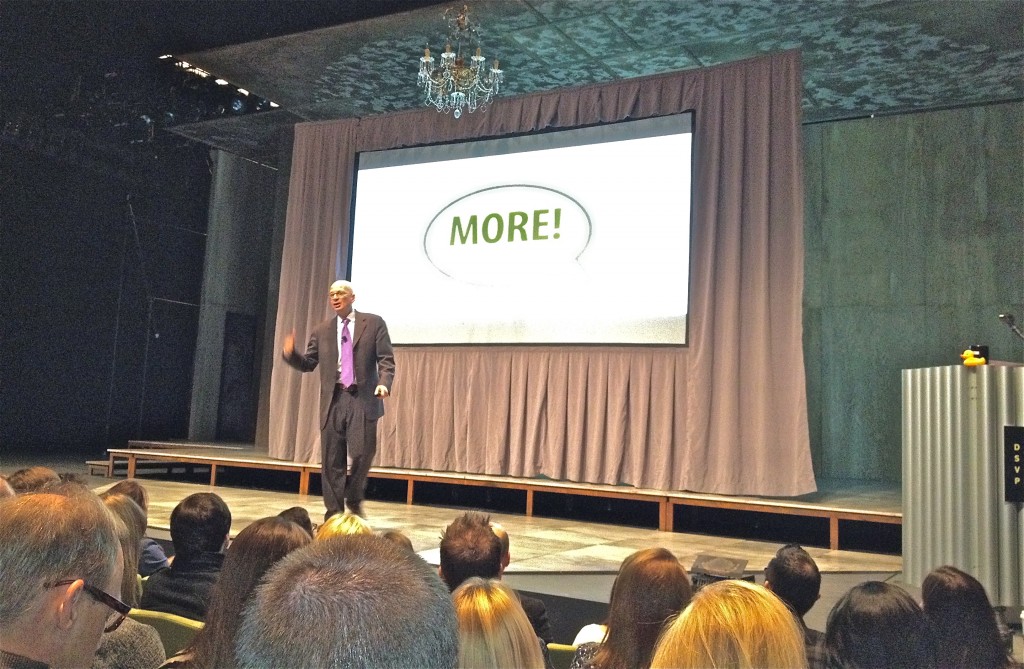 The brilliant thought leader and marketeer Seth Godin shares his views on upheaval and opportunity in a brave new world, powered by the Internet.  The venue:  Wyly Theater, hosted by Dallas Social Venture Partners via luxury/retail guru Steven Dennis, a former classmate and partner of Godin.  Oh, it was a morning brimming with inspiration, generosity and encouragement!
Some snippets:
More is the mantra of the old industrial age — the era of Henry Ford who pioneered mass production for purposes of getting more work out of workers and processes for purposes of more productivity, profitability and power for Ford.
The model of an industrial era company was based on hierarchy, how everything is organized — with interchangeable parts and people.  Think of an org chart.  You have to fit in the box.  Someone else moves the boxes around.  You can be in one day and out the next.
That era is over, according to Godin. We are in a permanent recession, he says, with an entire way of life going away.  Old economic development models are dead.  There will be no new factories coming to town with a bounty of 10,000 new jobs.  He sees the end of six-figure jobs where someone else tells you what to do.  In the new era, you will have to make it happen — on your own or in a dynamic environment.
We're in the midst of a revolution, now adjusting to the new vibes of the connection economy.  Old paradigms and power structures are dying.  The old record industry is dead, due to changes in technology and distribution.  But music is doing great — with new artists, content, platforms and fans.
It's all about connecting.  No one person can build a computer.  It takes a team of talent, suppliers, supporters and innovators to deliver the final product.  Thus, we have to think that way in re-inventing with our own ideas, opportunities and enterprises.
Being boring is a bane.  No one wants to pay for something boring.  Plain white socks that you make in China and sell to WalMart vs. cool, colorful designer socks that might not even match.  Don't laugh.  It's a $40 million business targeting tween girls.
Customization and quality equate to value.  And people will pay for the experience/benefit of saving time.
In the new world,  average rarely leads to anything beautiful.  Average products can no longer command and demand attention.
Today, you have to expose yourself to risk and have the grit to stand for something.  Those who fear innovation seek out regulation and protection.  It is a false barrier.
Godin talks about the importance of creating art, which he defines as anything a human does that connects with something else.  Art is risky.  You have to be first. (Otherwise it's just reproduction.)  You have to bring a different value, to put yourself out with your offering:  "Here, I made this."
It's virtually impossible to create something to sell to the mass market in the Internet era of so many choices and channels and platforms.  Thus, better to build a model that targets a niche where you can connect and create true fans.  Start small.  Be generous.
Find the confidence inside yourself.  Fight the resistance — all the messages and fears that squelch us.
There you have it.  Permission granted, Godin-style.  Get out of the box.  Innovate!
copyright 2013 Nancy Keene All Rights Reserved
February 14, 2013 by Nancy Keene